I mentioned in my previous post that, during our first 'open jam' session the other week, we actually wrote an awesome song.  Such a tease I am to tell you about our awesome new song without letting you hear it for yourself.  Such a horrible tease I am, all talk and no substance …that's what she said!
Well thanks to Suzy and Gazz for having the forethought to bring a digital camera along to the rehearsal room, we now have raw video evidence of our first musical collaboration!
This video comes with a little disclaimer though: the featured song is still a work-in-progress and the video itself is not exactly 'broadcast quality'.  Fortunately the video quality is just fine for YouTube, so check it out!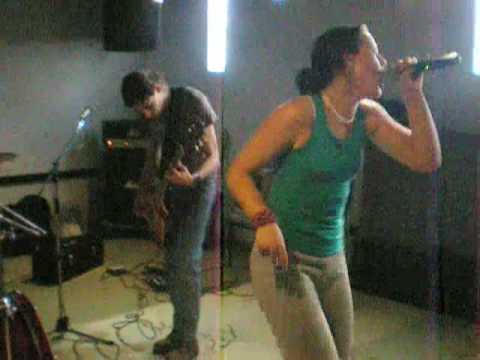 For a small digital camera, I was actually surprised at the results.  No fancy studio equipment was used (I hadn't planned on recording anything that day!), but the song is quite audible and the image is not too bad either.  Ain't technology grand?  Maybe Suzy will let us use her camera again next time (hint hint).
The song itself was only about 4 hours old when we recorded it, so it still needs some more work… and a title.  We'll keep you posted of any developments in the song's evolution, as well as any other songs that may emerge.
For now, let me leave you with a few of Suzy's happy snaps from the rehearsal studio.
Update: seems that folks are liking the video!  The Ground To Zero YouTube channel has reached #52 – Most Viewed (Today) – Musicians – Australia.  Nice!  Remember, if you like the video, you're free to share it around, so post it on your Myspace, share it with a friend on Facebook, whatever, it's free*!
*Free for non commercial use only, and Ground To Zero should always be credited for the content (as well as any derivatives, remixes, etc), because that's just polite dammit!  Check out the details on the Creative Commons Attribution-Noncommercial-Share Alike 2.5 Australia licence.